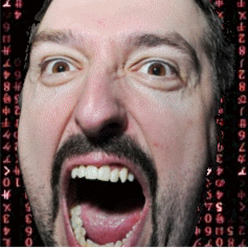 In 1859, Charles Darwin was publishing "On the Origin of Species by Means of Natural Selection, or the Preservation of Favoured Races in the Struggle for Life", a book that was proposing a theory that was logical, but against every cultural idea that people adhered to at the time. It said that people were animals and that the only force that pushes for change and therefore speciation, is evolution. People went mad with anger: we are not monkeys! Evolution is really easy to understand though, especially if you are not thinking of people or even of live things. Bear with me, while I make this point, before we move to the real theme of this post.
Imagine a chair maker. He buys the wood, carves the various components used to make chairs, then puts them together and sells them. He makes normal chairs: four legs supporting a platform and then a backrest. Whenever people need chairs, they come to him. Now, another chair maker comes into town. He figures that a chair is almost as stable with three legs as it would be with four. So he starts making three legged chairs, which cost less to make, so he sells them cheaper. Most of the people who need chairs start buying from him. In this case the force that applies pressure on the chairs is the public wanting sturdy, comfortable and cheap chairs and the cause of change is the design of the chair maker. The four leg chair maker will either switch to three legs, make more beautiful chairs or find a different production method if he wants to stay in business.
And before you tell me that I am explaining evolution through intelligent design, I will agree with that point. Because evolution is not something that denies intelligent design, it works with or without it just as well. It's a logical outcome of existing conditions and the rules that govern the environment. It has nothing to do with gods and nothing against them. If you have a population of things that can multiply in a way that allows for change, be it random or designed, and there is a pressure that limits the growth of the number of things, whether random or designed, then evolution takes place, favoring some variants (species or races) and disfavoring others. It happens every time men prefer blue eyes to brown ones in women, whenever women prefer tall men over bulky ones, whenever people make chairs or when there is pressure applied to the growth of a virus.
Yes, we reached the real point of the post: the characteristics of a virus in the human population will depend on the amount and direction of pressure we apply on its growth. Let's take some examples, shall we?
When we open schools because the Covid virus doesn't affect young children, but we limit or forbid adults gathering or going places, we put pressure on the virus to grow inside children. It's not complicated at all. Just like the chair maker, if the virus survives it only does it where it can spread. Because you can't stand your own children being children in your house with you and/or because you somehow believe that the linear and continuous application of regimented education without any breaks is more important than your children's health, you get a variant of virus that spreads through children. If you're lucky, it will come home with them and make just you sick. If you're unlucky, it will kill your children, too.
When we let political and economic pressure dictate the response to a viral outbreak, thus letting the virus spread unchecked through the population, you exponentially increase the chance of mutation (remember the multiplication which allows for change? That's called mutation in biology) thus getting more virus variants. Some of them will be more lethal, some of them will not. It's a throw of a dice that you should never have thrown. If after this horrid year of 2020 we start getting vaccinated and there is a variant out there that can infect vaccinated people, then it will spread through the entire population like we did absolutely nothing. And this happens whether your country implements a full lockdown or not, because other countries don't. Viruses care nothing about borders. So you're not losing money or political clout in the short term, but medium and long term you are losing big time.
This brings us to the last example and you won't like it. It goes like this: if you vaccinate people starting with the sick and elderly, and without even testing them first, you will have more chances of vaccinating already infected people. That means that while the vaccine will make your body reject a specific type of virus, that virus is already multiplying inside you and - yes, you guessed it - if any of them mutate into something that the vaccine did not prepare for, then it will be selected faster for evolution and survival, thus increasing the chances for a virus variant that the vaccine is ineffective for. A vaccine is the true long term solution for any viral outbreak: it uniformly limits the spread of the virus at scale with minimal cost. But only if applied uniformly!
This is not medical science that I am explaining here, it's simple logical progression from a given point applying a set of rules. When people address the issue of a viral epidemic by discussing their legal or moral rights, the existence or nonexistence of various deities, by considering the economy or advantages for various political parties or even some crackpot conspiracy or their personal comfort, they are missing the point. All you can do, as a person, group or government, is to alter your behavior so that the pressure you apply or do not apply leads to the best result for you and your people. The application of logic does not invalidate your beliefs, unless your believe that logic is wrong, which just makes you stupid.
The virus doesn't care what you believe or what you think. It will just move forward on the path of least resistance. It's your job to carve that path so that it leads where you want it to lead.
Whatever you read on Facebook also obeys the rules of evolution. So do media reports and politics. If they can't spread, they will die, so they will mutate into something that spreads and infects more readily. Your job is again, to act according to your own interest, to decide where you want to take things. Where will you apply the pressure and where will you go soft?
As I was saying in a post from a year ago, a virus (or a meme) tends to become more infections, but less damaging in time. Again, it's pure logic. It needs to spread better and therefore not kill its host too quickly or limit its mobility and thus its ability to infect others. But that only applies on a virus that is left unchecked. Once you apply pressure, you change the rules, it changes direction. All I am saying here is push it towards where you want it to go!