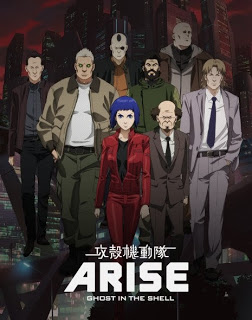 I am a complete fan of the
Ghost in the Shell
franchise. For those unfortunate enough to not know what that is, it is a series of manga and anime stories that describe a near future where integration with machines is the order of the day, giving rise to cyborg bodies, mind hackers and all that stuff. It is also a police procedural, where the heroes are an independent force designed to counter cyber threats. It is also an espionage thriller, since many of the actions in the stories are not linear, but have many political implications and intricate plots. But
what I thought was better than a beautiful and detailed sci-fi world with deep characterization and complex storylines is the exploration of the human soul and mind in a background that is mechanistic and science squeaky clean. To manage to do this repeatedly in manga, films and anime series is truly wonderful.
For me it all started with the movie. With impressive music by Kenji Kawai and a complexity and beauty and care for detail that I had never seen before (and rarely since),
Ghost in the Shell
blew my mind. Then there was the
Ghost in the Shell: Stand Alone Complex
, a two season series that went a little more toward the police procedural, but overall was just as wonderful as the film. And then the second film:
Innocence
. And now they made
Ghost in the Shell: Arise
, a four part OVA series, prequel to the film. Having seen the first one hour part, I can say I am very pleased and can't wait to see the entire series. It details the roots of major Kusanagi and what are the roots of her team. Very nice indeed. The only thing that I miss is
Kenji Kawai
's music.
I leave you with the trailer for the series and my recommendation to see all of the Ghost in the Shell animes, even the Tachicoma OVAs :)
Update September 2014: I've watched the entire series. The episodes are almost stand alone and totally worth watching. I liked the fourth one most, as it was clearly created to made the connection with the film and series. I loved the small tips of the hat to hallmark scenes in the film: the cloaked jump from a skyscraper, the destruction of the cyber hands while pulling on the lid of a battle tank and so on. Does that mean that a new series and/or film will be created? I certainly hope so. My only problem with the new OVA is that the music of Cornelius is not even close to the haunting quality of Kenji Kawai's.