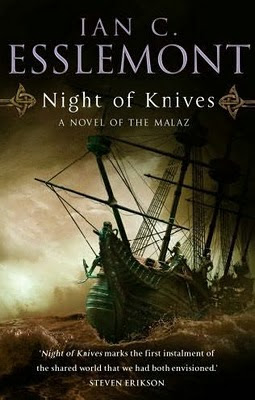 Forced to wait for the tenth and final novel of the
Malazan Book of the Fallen
series, due to be published this year, I've started to read the books placed in the same universe written by Steven Erikson's friend,
Ian Cameron Esslemont
. The first of these books is
Night of Knives
, which is rather short compared with Erikson's novels or, indeed, with the second Esslemont book, Return of the Crimson Guard, which I am reading now.
The book is alert, as it spans a single night on the island of Malaz, during a rare event which weakens the borders between realms. Anything can happen during this night and, indeed, does happen. The island is assaulted by alien ice magic water dwellers, the dead house is under siege and Kellanved and Dancer are making their move towards the throne of Shadow realm. Meanwhile Surly is Clawing her way into the throne, a natural talented girl with too much attitude is trying to get a job and start an adventure and an old retired soldier gives his all once again.
All and all, it was a nice book. The writing style is clearly different from Erikson's, with less descriptive passages, a little more action and a more positive bias, tending to lend people more good qualities and having them end a little better. However, it only takes a few pages to get into the Malazan feel of things and enjoy the book.