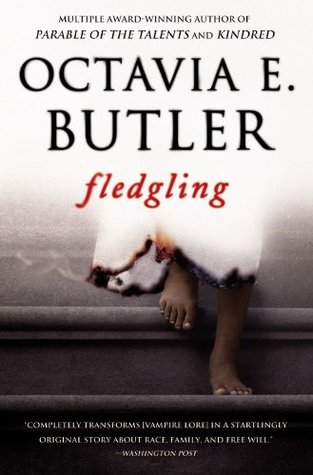 Octavia E. Butler blew my mind with her Xenogenesis trilogy, where she explored the needs and choices of human beings when their control is taken away from them not by aggressive beings, but by god like aliens who can control and change the very nature of one's body and mind and kindly, like parents who know best, rape Earth and all the humanity for three long books. It was daring, it was thought provoking, it was sickening.
I can see similar motifs in Fledgling, where the point of view is that of an amnesiac vampire who needs to understand who and what she is and find the people who killed her entire family and almost killed her as well. Vampires are not evil in this book, instead just having the ability to completely redirect the feelings of people they feed from towards adulation and love, a bit like the aliens in Xenogenesis. And consider the fact that the protagonist looks like a ten year old black girl and in just a few chapters she has consensual sex with a large man. I wonder what the hell happened to Butler when she was young!
Unfortunately, the story starts with this very intriguing reimagining of vampire lore, with a feel reminding me a bit of Let the Right One In, only to become mired in a sort of legal proceeding and then abruptly end. It's a fine exploration of this new idea of the vampire, but not much more. I liked the book, it was interesting from beginning to end, but it felt mostly like an intellectual exercise that could have become something so much better with just a little refinement and further exploration.
Bottom line: I recommend it, as it again fiddles with our notions of propriety, sexuality and race, but Xenogenesis was much better.