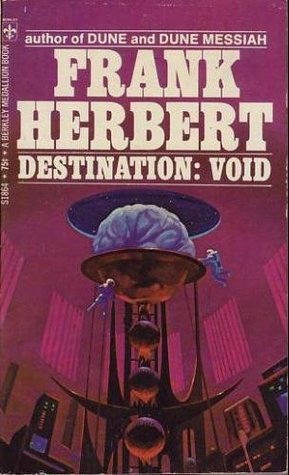 I will be frank (pun not intended) and say that this book shocked me with how good it is. It is not very accessible, as it is fairly philosophical and technical - and the technical side may be a lot of mumbo jumbo, but I think this book shows what Frank Herbert was capable of at the height of his prowess.
In short, Destination: Void is about a crew of four people on a disabled ship who need to construct an artificial intelligence in order to save the ship and their lives. There is only one snag: no one has managed to successfully build an AI that didn't end up disastrous. Here you have to accept a concept without which the book will not work: that an ultimately conscious entity has full access to the universe, giving them godly powers. This is not only a book about building a computer system, but a philosophical dissection of what consciousness is, what is intelligence, how the human mind works and should we, when building mechanical intelligence, even follow that design as a model.
This book features many of the brand Herbert ideas: the deeply meaningful thoughts, conversations and actions between an isolated group of people, the inner thought voiced in the writing, the declared and hidden agendas of people, the oppressive society that uses immoral methods to get to its goals, the great potential of human beings that can only be unleashed by extreme circumstances, the religious and sexual components of human drive, the archetypal roles of the characters, etc. And the insane pacing puts those ideas even more into terrifying focus.
Again, I was amazed by this book, all but the ending. I would have loved an entire series following the spirit of most of it, unfortunately the next three books go in a completely different direction: the nature of godhood. Perhaps that is why this is not considered the first book in the "sequence", but book 0.5, because if the next ones focus on a god, this one focuses on building one. Or perhaps because Pandora is not even part of the story here.
In conclusion, I recommend reading this book as a standalone story. Kudos if you want to read and enjoy the entire Pandora series, but in my mind Destination: Void is quite different from the others.