I've just returned from vacation in Greece where I spent about three days in Athens, the country's capital. It was an interesting experience, mostly because it felt so depressingly familiar, but also because it showed both promise and disappointment at the same time.
General impressions
I would have liked Athens to look like this (click to enlarge):
An orange tree in bloom, smelling wonderful, with a lazy cat comfortably laying at its base, not a care in the world.
Instead, it was mostly like this: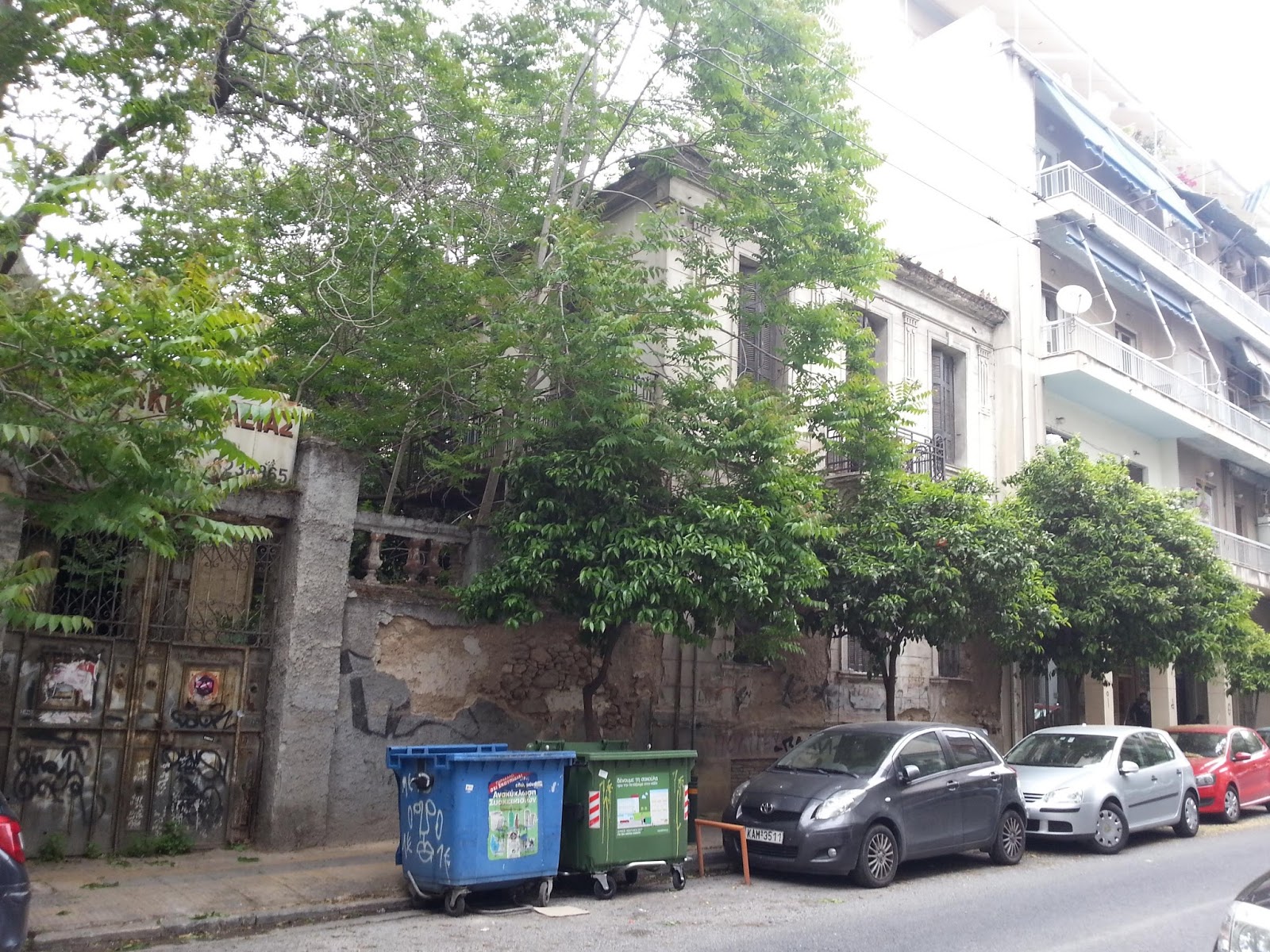 A nice little building with traditional Greek balconies on a cozy street (with the mandatory orange trees), next to a derelict ruin covered in graffiti and garbage.
Indeed, for me Athens felt downright schizophrenic. The day we arrived we went by foot towards the very center of the city, the place where tourists go for expensive dinners in an area filled with restaurants. We had to walk on streets covered in garbage, populated by vagrants, or places where the only companies were Chinese import companies and the street was filled with dirty dark skinned people doing suspicious commerce. And no, I am not afraid of dark skinned people, but I was accompanying two women and I was damn nervous. Anyway, all this was not a shady part of the city, instead these areas were intermingled with lighted streets where restaurants and tourists were abundant. And in the less tourist part of the center of Athens there was the same story, only told by buildings. Prosperous companies housed next to unfinished, abandoned or really ugly constructions. It wasn't uncommon to see a whole first floor with the windows empty or barred with wood, with shops on the first floor. Vagrant people everywhere, and they didn't look like Syrian migrants, either. Only they didn't seem that violent and people walked around them as it was the most natural sight in the world.
It reminded me so much of Bucharest, only here the restaurants and shops are less expensive and the vagrants less common. In Romania, that kind of lack of social status and resources often breeds frustration, anger and violence. Police actively try to get rid of homeless people. In Athens it looked as if this mix of opulence and filth was a given. The traffic in Athens also reminded me of my home city, only again, it felt more extreme and more subdued at the same time. It was common to see people cross the street in the middle of the boulevard, cars and motorbikes rushing towards them, with not a hint of fear. Cars would stop and let them pass, the drivers obviously not happy, but not expecting different either. The behavior was validated by the crazy street lights that turned green then back to red in a matter of seconds on some large streets and boulevards, and stayed green a long time then went intermittently green before changing color on small and barely circulated roads. The "hop on, hop off" bus, nicely avoiding the streets where people were sleeping on the ground and keeping on the nice sides of the city, a double decker vehicle filled with people, would routinely stop in its course to wait for taxi cabs that would converse with customers or people randomly parking cars or scooters or whatever in the middle of the road. Again, in my home city this happens all the time, but people are angry with frustrated honking and loud swearing. The driver seemed quite calm driving through spaces that barely allowed the bus to pass or to wait for these people.
Food
Anyone who knows me also knows that I rate the quality of a place based on the taste of the local food. I could be surrounded by black beggars and still enjoy a good meal (as long as I don't have to smell people). However, the types of places you can eat at in Athens are also quite different. One can follow the TripAdvisor recommendations and find themselves paying 6 euros for a beer in an Irish café and eat crap for a lot of money; that if they even find the place there anymore, since it seems that the economics of the area are quite dynamic. One can go to where most people seem to go, and end up in a typical tourist trap tavern that gives them a Greek-style euro-food that doesn't mean anything, tastes like anything else and, again, is expensive as shit. Yet there is also the possibility you end up at a nice Greek tavern or some other type of place where you can eat and drink and enjoy both as well as the mood and atmosphere of the place. And as with other aspects of the town, you can find these types of locales one next to the other.
For example we went to the fish and meat market. It's a huge place where people try to sell you fresh fish, mollusks, lamb, pork and so on. After walking around and frankly getting fed up with the smell of fish in the place I was about to leave when I noticed in a nook of the market, out of the way, there was a tavern. I immediately went there. I mean, if people that work there also eat there using fresh ingredients that they sell there, it's gotta be good. And it was! We ate some really inexpensive stuff, with Greeks sitting (and smoking) at the other tables, all singing together with a guy playing the accordion. And let me tell you this: the songs that they sang and knew by heart were not the type of songs that outsiders connect to "traditionally Greek", although they were obviously so. And also the accordion guy was not expecting money or anything, he was playing because he liked it. I loved the place, although it was clearly "a bomb".
Similarly we found a Greek tavern right next to some fancy "cafés" that served expensive drinks and coffee and snacks that were barely food. We had moussaka and Greek salad with retsina and tsipouro and it was wonderful. We were slightly interrupted by some child beggars; they were Romanian.
Amazingly enough, I had no souvlaki, not for lack of trying, but because I was there with evil women who seemed bent on wearing my legs off with their damn walking and sightseeing! Also I was really attracted by some Indian and Bangladeshi places that seemed even more "explosive" than the market tavern. Yet they were in the area with all the beggars and import companies and I couldn't convince anyone to go there. I would have chanced it, maybe, if it wasn't that I had to fly to Bucharest the next day and going to the bathroom every half an hour would have been kind of difficult.
The Akropolis
It's a bunch of ruins on top of a mountain, infested by tourists and quite frankly mostly fake. I mean, the Akropolis museum is much more interesting and it also shows how many times the Akropolis was damaged, destroyed, raised and restored afterwards. To me, the picture there I felt the most true is this: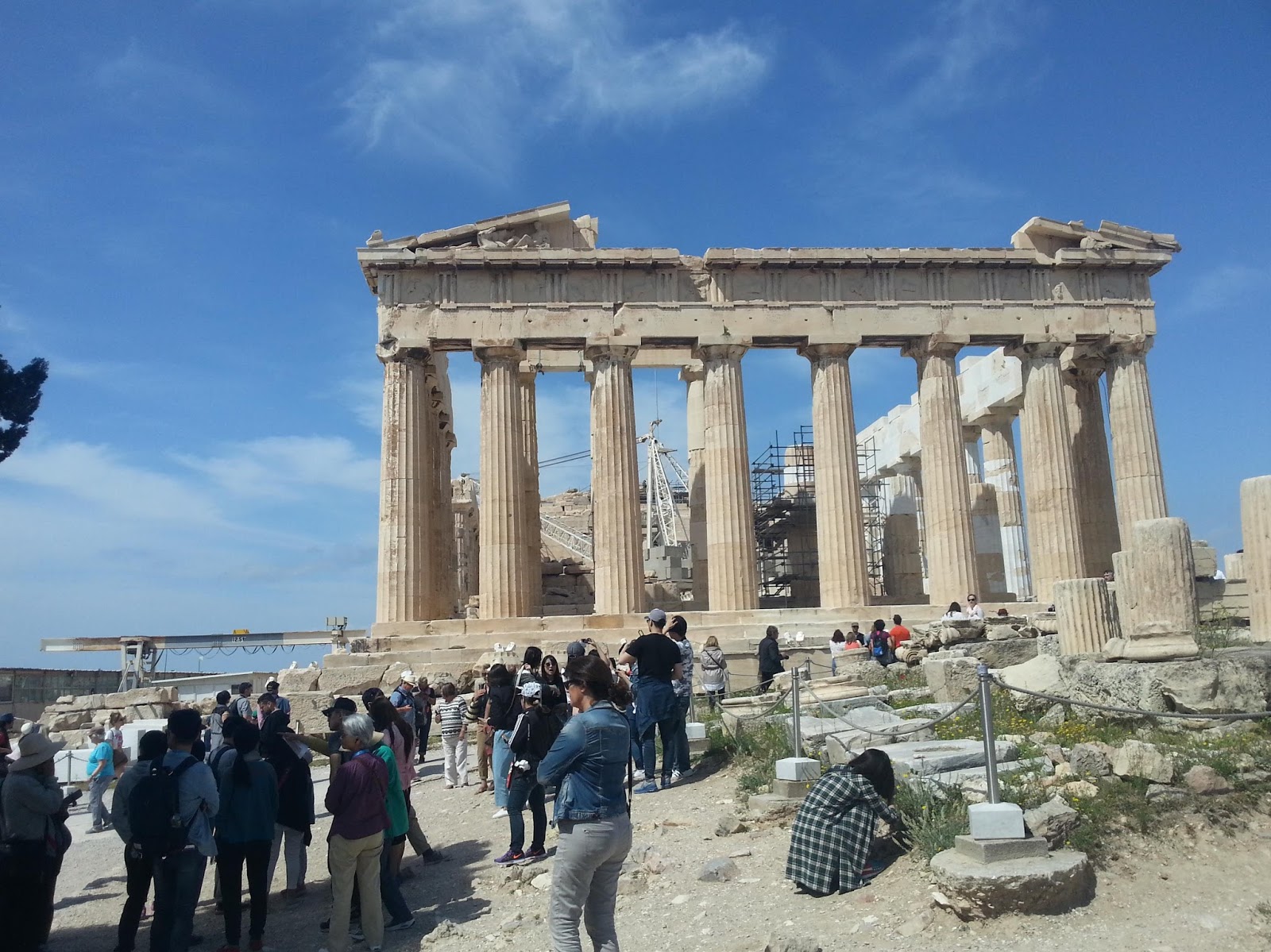 A mass of indistinct people sucking away any trace of tradition, history or sacred from a bunch of replica stones and statues that need heavy machinery to even stay in place.
For a moment I imagined they were installing the machines in order to make a transformer place. One could see Akropolis in various stages of its existence: press a button and suddenly the Parthenon is a mosque from the times of Turkish occupation, and the Erechtheion is where the harem is housed, press another and you get a church of Virgin Mary.
You want more, just google it.
The people
I've seen really tall muscular Greeks and also small little dudes. It seemed like there was a gap in the middle, where an "average" Greek was less found. Girls were as a rule rather ugly, with a tendency for being short and fat. I've seen cute Greek girls, but they were all young and far in between.
As a rule they were all rather polite, although we didn't interact with a lot of them. At one point we went to a tavern and the Greek waiter there spoke some Romanian words as many of the employees were from Suceava and he caught some of the language - he seemed to be enjoying his association with Romanian people. Also, for a place filled with homeless people, Athenians didn't seem to fear theft so much. I saw people leave their bag and cell phone on the ground while they went back to their motorcycle to get something and many shops that held products outside, ripe for the grabbing.
Conclusion
Athens didn't feel at all like a tourist city. Like Bucharest, it has its quirks and nice places, but its pragmatic purpose is to be a capital, not a place to explore and enjoy as a tourist. After two days there you have to ask some locals what else to look for and I bet that most of them would have to think hard before coming up with an answer. The city is a lot larger than its center, and we didn't go to see it all, so there are aspects that I am sure we missed, but the little I've seen shows a place of growth that was stunted by the country's economic collapse. It is not a place that is poor or rich, but rather something that feels diseased, with healthy tissue surrounded by corrupted one. Yet is it healing or delving deeper into sickness? That I cannot tell.
What I can tell you is that I don't regret seeing it, but I wouldn't go back there. My favorite experiences were smelling the blooming orange trees and eating at the fish market. The rest felt totally forgettable.