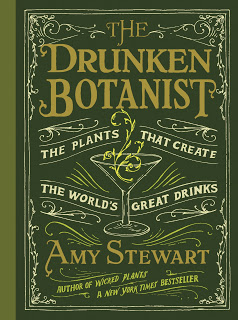 I will go forth immediately and say that this book is hard to read. It's not just that it uses English names of fruits and plants not often met in normal conversation or movies, it's not only that it uses the English measurements units that most Europeans have no understanding of and it's not even the author's apparent obsession with
Angostura bitters
:). It's because the book is filled with information and it is better suited to be used as a reference than a one-off read. It is obvious that in
The Drunken Botanist
the author,
Amy Stewart
, put a great deal of research; such an amount, in fact, that it would be impossible to be able to absorb all of it in one read. You realize that a book is great when you see affecting you in your every day life. No, I did not get drunk every day on strange cocktails, even if the temptation certainly existed, but I found myself looking at plants everywhere and wondering how they would taste in a drink. "Is that fruit edible? Probably not, it's red and the fruit of a decorative tree, so probably it is poisonous. But surely there is a way to destroy the poison and enjoy the taste in an alcoholic drink." That sort of thing.
And what I find even nicer is that the author is ready to continue the conversation started in the book on a special website called
DrunkenBotanist.com
The book is split into very little chapters, each on a certain plant, a little bit of history - the degree of details varying wildly, but described with great humor and passion, the way they are used in drinks, cocktail recipes, some botanical or chemical info - although not too much. There are organized by themes, like leaves or fruits, grasses or trees, and so on, but essentially it's an enumeration of plants and their uses. This is something I didn't like that much. My issue is that I expected to see more botanical information, like how plants are related and how the drinks made from them are related. As such, you only get a few words at the beginning of a chapter about the plant's family, but no connection is made. Of course, no one stops you for researching and doing it yourself.
Another thing that bothered me a little was the images. I agree that full color and size images of the plants described would have printed as a huge book, but the e-book version I read had no such limitations. Instead of seeing a simplistic representation of some plants, I would have liked to see the plant itself. That would have helped me understand what each plant was in my language, as well.
I have to conclude that
the book is a very interesting one, albeit difficult to finish reading. I understand the need to earn money and thus sell it as a book, but for me it seems that the book's format would have been a lot more appropriate for a web site and that some features should have been different in the electronic version than the printed one. Instead, the Drunken Botanist site is actually a blog, in a blog format, which is unusable as a reference, really. I recommend browsing the book and certainly have it available. Some information in it is great at parties and the botanical insight into the common drinks and their ingredients is fascinating. But think of it as something to have ready for when you need to know what you are mixing. I would say it's a mandatory read for any bartender
, though.