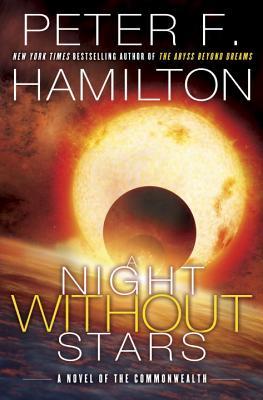 The Abyss Beyond Dreams ended with Bienvenido being thrown out of the Void and outside the very galaxy. A different set of heroes now need to battle Fallers, idiotic government people and spacetime to save the world!
A Night Without Stars is almost as good as the first one. It brings new challenges, a slightly different setup, other characters. In a way, it's pretty much a separate book. And while it follows the plethora of different people, each doing their own thing, it keeps the entire narrative together and consistent. Still had parts and leaps of logic that felt a bit lazy, but the main flow of the story was captivating and the characters sympathetic.
But, being the actual end of a story and being a Peter F. Hamilton book, it doesn't end on a cliffhanger, but as abruptly as falling off the cliff. To give you a taste: the fate of the Void is resolved in less than a paragraph. The end of the book introduces no less than three different alien races, each with their own few paragraphs. It was like Hamilton was saying "Hey, glad you enjoyed the book. I also had this list of ideas while writing it. I'll list them at the end and let you think about the possibilities as homework".
Bottom line: if you are a Hamilton fan (or you like good hard science fantasy) there is no force that will stop you reading these two books. I even felt like they were slightly better written than the ones before, even if a bit less carefully. However, the cold turkey endings of these stories stop me from feeling like I want more. It's like enjoying a high speed car ride and hitting a tree. It was fun while it lasted, but you don't feel like driving now.