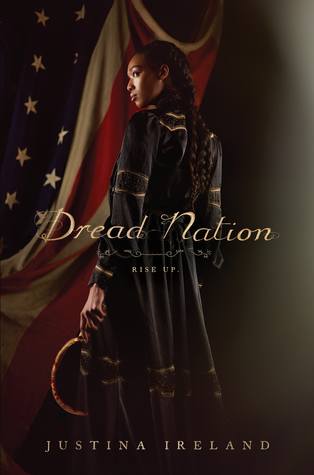 Using my system of randomizing the choice of books, I started reading Dread Nation. The very first page there is a dedication to all people of color. So I immediately deflated, as there are some people who think writing with a political agenda doesn't require any actual knowledge of bookcraft. Then there was the author's name, Justina Ireland, suggesting anything else than the Black female writer she is. And then it was a period piece, set right after the American Civil War. And then... it was also about zombies! So I prepared for a bad woke book written by a woman who looks to the past to justify her antiracist outrage. Yeah, I know, I'm a monster. But then I kind of liked the book!
That doesn't mean I wasn't partly right. The story is told from the first person perspective of a character who is a Mary Sue. She is a Black girl, birthed by a White woman, but also partly raised as a slave, but also knowing how to read and being well read, but also speaking in Black English, but only randomly or when it suits her, she is smart, perfectly trained to fight zombies and also trained in etiquette, but also a rebel and a tomboy, but also cute enough to attract the attention of a beautiful and fiery Black boy, oppressed her entire life, but also capable of taking control of any situation, small of build and being hurt repeatedly, but then shrugging off damage like an action hero, which she also is, and so on. Then there are the male White characters, which are all bad, except maybe some which I am pretty sure will turn out to be bad too in the end. White women are vile, but some of them, if they are not rich, are OK. Black boys are naive and needing guidance, even if they have their hearts in the right place.
In short, the book is very inconsistent in its characterization and this girl can do *everything*, except maybe feel when people are sneaking up to her to cock guns when the story requires her to get caught and brutalized. But the world building is good. The author researched books about the forced Native American "educational" centers, another bright spot in the U.S. history - land of the free if you survive, are not enslaved and are White - and created this world where the dead had risen right in the middle of the Civil War, abruptly terminating it, yet not solving any of the social issues that had been in dispute during it.
And yes, it does feel a little "inspired" from the likes of Lovecraft Country, only instead of cosmic horror you get the run of the mill zombie outbreak as the background for a story about racism. The writing is typical Young Adult, focused on what the character feels, intends and believes, with action and interaction with other people just there to further the story in a blatantly obvious way. But it was also fun. Unfortunately, it is yet another "first book in a trilogy" and you would have to read the two other books to get any closure. I liked the book, but not that much to continue reading the rest.