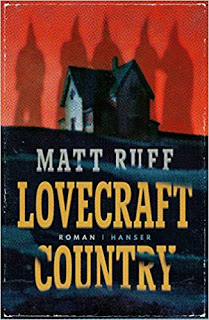 Lovecraft Country
is a collection of short stories that are all linked, with the last bringing them together. It's a very fresh and original take, shining a light on racism in America in the 1960s, but also bringing in bits of the Lovecraftian fantastic. And to
Matt Ruff
's credit, he does both very well, considering the abysmal record of people trying to adapt
Lovecraft
and also that he is a white New-Yorker.
The heroes of the book are a family of Negroes (their word for it) and while magic and curses and monsters and parallel dimensions are present, the only horrific elements of the story is how they are treated by the white population. Yet they stay positive and resilient and survive. Each short story focuses on one of the family members, sometimes two, but only in the end they all play a part. I found the character of Caleb Braithwaite compelling, too, a roguish and charming magician, very similar to Jack Nicholson's devil character from
The Witches of Eastwick
.
I recommend the book and I feel like I want Ruff to write more in this universe.