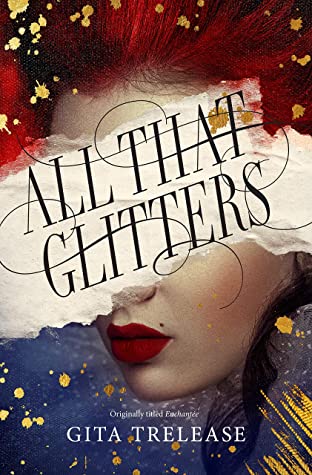 Imagine if the fairy godmother would teach Cinderella the very basics of magic, warned her to not do it, then promptly vanished forever. Then imagine Cinderella was French right around the time of the French Revolution. That's the plot in a nutshell.
All That Glitters has the hallmarks of greatness: good writing, a very interesting world and a character that grows with the reader. However, I found it really difficult to finish it. I believe the reason was the telegraphing of the protagonist's suffering, making me think of all the horrid things that were going to happen to her, only for her to actually find rather convenient and facile ways of getting out of trouble.
And I have to tell you that it was a weird feeling throughout. Made me feel guilty for fearing of all the bad things that were predictably going to happen to the heroine and then resentful of Gita Trelease for letting her off the hook. I mean, this girl and her sister have to deal with the death of their parents, systemic classism, being disconsidered for being women, having a violent addict and gambler of a brother that leeches from them even the money for food and rent, nobles, sorcerers and, of course, the worse of it all, romantic triangles! We can't miss those. And the only solution, a form of magic that feeds on one's sorrow and actual blood and only gives illusions in return.
Now, of course, this is the first book in a bloody series, luckily a duology, at least for now. There are no standalone books anymore. Therefore the author has all the opportunity to grow as a writer, torture her protagonist to her and the readers' content and determine the most important thing of them all: who is Camille going to marry? Can you imagine being able to turn anything iron into coins for a limited time and not once considering what (or who) else can you turn into what? Maybe that will happen in the next books, but I won't be reading them.
Bottom line: a definite success of a debut and full of potential and value. However it seems the author and myself are focusing on different things in life and even if we witness the same story, we only want to see the parts the other doesn't. I guess the book appeals more to the feminine side of the reader.