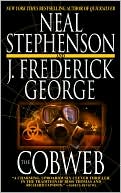 The Cobweb
is not a sci-fi story, just a fiction thriller. It happends in modern day America, where a small town cop slowly unravels a plot of international proportions and implications. He has to foil it with no help from (or rather against) the corrupted systems of university academia and government security and diplomatic agencies.
Actually, this is the main subject of the book, if I can say so: Throat cutting internal politics inside the CIA, the rule that CIA operations cannot take place inside the borders of the USA, and they ways to bend that rule, university scholarship stewards that live off foreign student exchanges (real or not) and bogus grants, etc. It was a bleak picture, the one painted of the CIA employees who cannot exceed their assigned duty, even if they have plenty of reason to, else face career stop or even dismissal.
In the end, of course, Deputy Sheriff Clyde Banks saves the day, but I can't help noticing that I knew this would happen from the very start. The real information is in the path to the end result and that is what I've appreciated in this book. The reader is taken away to discover the filthy world Stephenson and George expose.
It starts a little slow. It also provides plenty of information for would be terrorists :) So I recommend it to everyone, even if it is not a sci-fi book, it's a solid well made story.