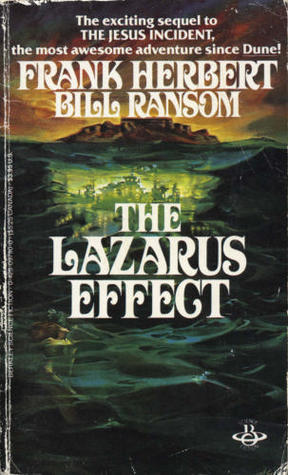 In Dune, Frank Herbert had a certain pattern of trilogy storytelling: a book that built the world and introduced some characters in a more traditional way, so something to hook you in, then a connective book that would upend the order set up in the first book, then a third which would tell the actual story that needed telling. This inevitably led to people enjoying just some of the books and created this up-and-down kind of level of quality. You can see something similar in the Pandora series, but the books are just so confusingly different from each other that one can barely consider them part of the same universe.
The first actual book (which is numbered 0.5 for some reason, perhaps because it's not happening on Pandora) was about building an AI on a starship. The next book was about an omnipotent starship acting like a god to the poor people of Pandora, forcing genetic mutations, cultural and personal behaviors and demanding worship. And now this one, The Lazarus Effect, where Ship is gone and all you get is a kind of whodunnit with a limited cast of characters on the now aquatic world of Pandora. I can already tell you that the last book starts from a completely different point and going in another direction than what the ending of this one left off.
And then there is the quality of the books. I kept very favorable memories of these books from my childhood when I first read them, but now I realize it was probably either a phase in which I understood and enjoyed a lot more than this one, or (more likely) I was nostalgic for the hours and hours of playing the Civilisation-like video game Alpha Centauri which was inspired by Pandora. Short story long: Other than Destination: Void, which I thought was kind of heavy but I enjoyed a lot, all the other books feel … empty of pleasure. There is nothing to make you, as a reader, feel good while reading them. No characters are fleshed out enough to empathize and they are often unlikeable anyway. The world, biologically, ecologically or socio-politically, is rather basic and uninteresting. Perhaps at the time of its writing it was an amazingly fresh universe, but now it just feels like Waterworld and Pandora (from Avatar this time) mashed together by Chinese filmmakers. All of those elements are fun taken separately, but together they're just a mess.
As for this book, I think one can get into the correct mindset to understand and maybe appreciate The Jesus Incident, even if I couldn't now, but The Lazarus Effect has almost no redeeming qualities. It is just boring and uninteresting, slogging towards a predictable ending. It took me ages to finish it because I just found other things to do rather than read it. I am now grinding through the last book and I can't wait to get rid of it.