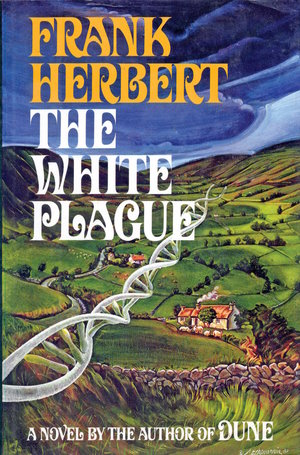 Imagine reading a novel about a global pandemic with the background of Irish violence right about when Covid struck and people didn't know how Brexit was going to turn out and what it would do to Irish tensions. That was the best moment to read it. A bit anachronistic, with some pacing issues, The White Plague is still one of Frank Herbert's best.
After reading the book synopsis, one expects to get a book about a violent global pandemic, but in fact that's just the first quarter of the book. The rest is psychological explorations of people motivations and characters, the ubiquitous Herbert attempts to find a solution to the toxic human organizational structures, analysis of history, violence, religion and philosophy. I mean, it's Herbert!
A violent "Provo" bombing kills the wife and daughters of a molecular biologist that was in Ireland on vacation. He goes mad and creates a plague to destroy the people who wronged him by killing their women. I can't but smile at the implications, that if a smart educated scientist gets pissed off they could easily cause more damage than the toys and sticks of military people. The theme reminds me of his short story Public Hearing, which explores what happens when immense destructive power can be achieved with little effort by individuals, and how that makes governments - the keepers of peace - obsolete.
But then there is the larger part of the book that is just the guy walking in the Irish countryside with a priest, a mute child and an IRA member that was actually the one who ordered the bomb that killed his wife. And to tell you the truth, the scientist is not very sympathetic, the IRA soldier is annoying and the priest and the child are unbearable. The ideas that the author is analyzing are interesting, but the pacing is slow, methodical, and perhaps the reason why more people haven't heard of this book.
And there is the usual strangeness of Herbert's approach to female characters. There is just one, really, in this book, and she comes across as stupid, vain but also calculatingly self serving, while still having men fawning over her. That in a story which covers the death of most women on Earth. The guy didn't like women much.
Anyway, if you take anything from this review, is that together with Hellstrom's Hive and of course the Dune series, this is one of the books that impacted me most.