It wasn't a very memorable trip, but I had to write this because of the Bohemi hotel in Arbanasi, which must most certainly be avoided. And it was, overall, a nice holiday. But let me take it from the beginning.

We took the car starting up from Bucharest and went towards Veliko Tarnovo. We passed through Basarbovo, to visit the rock monastery there. Very nice place, if you like churches. They have these small rock dug rooms where priests used to live and pray and then the monastery which was in renovation when we came there, but had a very lovely garden.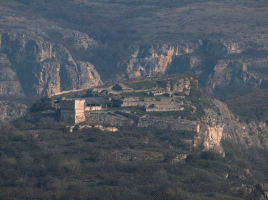 We then moved towards Cherven, where we visited the castle dig which is archaeologically active. It is a large XIV century Christian fortress, where one can see how people lived in the day: small one room living quarters and then a gazillion churches, large and small, then some administrative buildings and some defence walls and watch towers. There are about 200 stair steps to reach the castle from where the car road ends.

Next was Ivanovo. Some other rock monasteries, but everything set inside a natural reserve, a very beautiful place.

Then we went towards Arbanasi, a touristic area where there are a lot of hotels and where we arranged for accomodations. The hotel we chose was a three star hotel called Bohemi, boasting internet, minibars, outdoor oven, breakfast, etc, depending on the tourist site you search for it. Let me tell you how it really is: it's a two star hotel with smelly rooms, no parking, invaded by insects and spiders (and a scorpion which scared the craop out of my wife), no internet, no minibars, with a breakfast as the ones from the communist era: some bread and butter and jam and some salami/cheese slices. The hotel itself is one of many owned by the same people, so the person serving there is only an employee, put there to mind the place. In the room, after we got used with the stale odor of moist walls, we noticed that we has not enough sheets and two out of four light bulbs were not functioning. Really, I can't stress enough: 35 euros per night?! In times of economic crisis and with this kind of service? Avoid!

Arbanasi itself is not a bad place to stay, eat, sleep, and then back again. It would have killed me with boredom if I didn't have a car. They have a monastery there, but by then I got tired of any type of religious building. The restaurants where very nice, but service was consistently bad. I haven't seen dumber waiters in quite a while.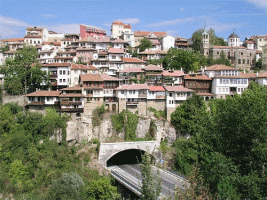 Veliko Tarnovo is a large city, once the capital of the second Bulgarian empire.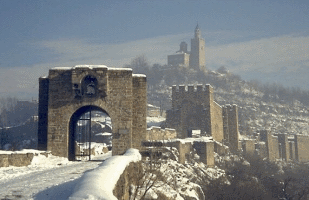 The stronghold there is a very nice place, where they don't allow sale people and where people can see theater and sound/light shows in the evening. Very large, beautiful and accomodating. Then there are some monuments and some nice streets.
The city itself is pretty cool. Lots of churches, of course :) I am sure that, being with my parents, I missed a lot of the hidden beauty of the town, but it was nice nonetheless.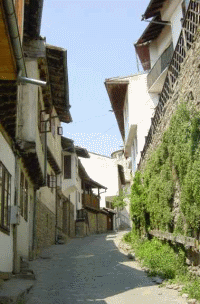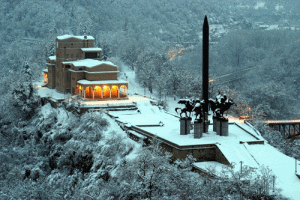 That was about it. Take the links to get more information. My general opinion of Bulgaria is that it is a nice country, beatiful and wild, but rather poor. All the small towns and villages we passed through looked half abandoned, with many disaffected buildings and very few people. The economic crisis must have hit them pretty hard, too.