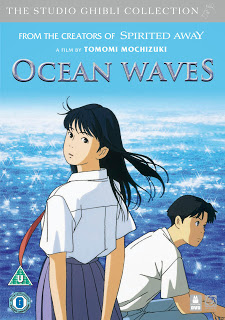 I always liked animes from
Studio Ghibli
., but until now I didn't quite get why. It is because they have calm. Everything today has to be over the top, flashy, fast. Ghibli stories take their time, they feature normal people with normal desires and rhythms. behaving normally.
The Ocean Waves
is about a cute girl moving from Tokyo to a provincial highschool in Kochi. Everybody is curious about her, but she is a loner and quite rude. Two friends are both interacting with her, but it's never clear what's in their hearts. Slowly, but surely, we start to understand each of the actors and the story comes full circle after graduation, at the first highschool reunion.
I've learned so much about Japanese culture from animes, but the ones from Ghibli make me understand the people. The stories often have what is missing in not only animation, but real actor movies as well: people that you can empathise with, because they are like you (or rather, like you would like to be, but not in infantile fantasies, but in your hopeful dreams).
Really nice movie, it certainly worth seeing.