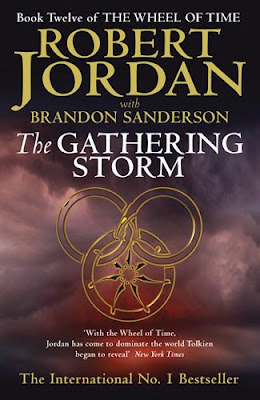 The Gathering Storm
is the 12th book in the fantasy series Wheel of Time and the last in the saga to be written (partially) by Robert Jordan. The guy died while writing it and the book was continued by Brandon Sanderson. The result? A better book! I firmly believe that Sanderson is writing better than Robert Jordan, while at the same time retaining enough of his style to not feel too much of a disconnect. I wish I was a literary critic right now, so that I could tell you what was better, but I am not; as a reader I can only tell you that I felt less like crawling through thick fluid and more like swimming. There is proof: I've finished reading this book almost a week ago and, while not having time to write this post, I did get two thirds in the thirteenth book of the series.
Ok, I must admit that being a series finale, it was bound to be more interesting, however more focus on the action and less on Nynaeve's braid pulling helped a lot. The plot revolves more about Rand and Egwene and less on the others. Rand is getting more and more erratic do to his obsession for eliminating his emotions. Instead, he buries them within, causing more and more insanity. Luckily, he gets over it, and not by psychotherapy, either. Egwene, instead, having been captured by the White Tower, has been demoted to Accepted and forced to do chores and beatings in order to stop calling herself Amyrlin. She uses her enormous ego and Aiel teachings to overcome the hurdles and reunite the Tower with the unexpected help of Verin, as we finally learn who she was.
The story of this book is interesting in itself. It was supposed to be the last book of Wheel of Time, but then it grew too much and it was decided a split into no less than three other books. The initial target was 200000 words, but the final estimation reached 750000. That means most of the book was written by Sanderson. The reception for the book was positive, since many of the threads left unended in the previous books were clarified.
Right now I am almost at the end of the final published book in the series, Towers of Midnight. The fourteenth book is supposedly ending the saga and will be published sometime at the beginning of 2013. So in about 9 months it will all be over :-)