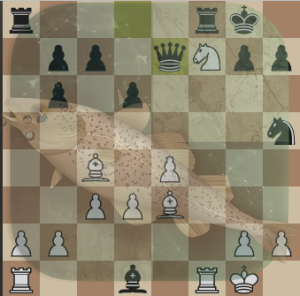 In the Vienna game: Copycat variation there is a particular position where Black pins White's queen, but White ignores that anyway to attack the king. Queen sac's are always interesting, but what is more interesting for me is that Stockfish shows that's the only way to win, it continues into a position where it claims +2.2 for White, but then it can't think of a way out!
So, can you help Stockfish out from this position?
Here is the position:
The first idea is Nxd6, winning a pawn with discovered check, but after the king moves to h8, the only move that doesn't lead to equality or worse is back with Nf7+. One can give a double check with Nh6, but after Kg8 the best move by far is back with Nf7+. What if we take the rook at f8? We can't do that, because then Black brings the other rook and White loses. Nf7+ is forced. What else?
If you leave Stockfish running with multiple eval lines, it will cycle between them, with the winning move always moving the knight back and forth on f7. But this is chess, not Stratagema. What could we possibly do? What is the way out? How can one have +2.2 evaluation, yet not be able to escape this position? Is this the end of computer chess?!