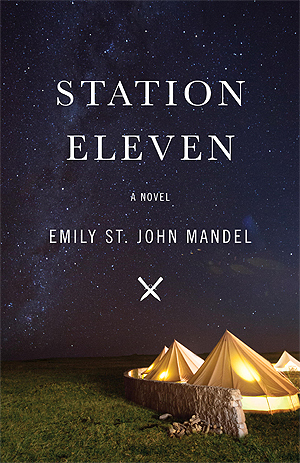 Station Eleven started really well. It had the fresh scene setup, the internal thoughts of a complex character, a dissection of actual motivations and emotions, rather than cardboard cliches. Because I have a bunch of books to read and when I start reading I just pick one at random, I didn't know what it was about, and so I had that feeling of "Oh well, it's not sci-fi or fantasy, but I like the writing!". I was convinced I was going to like the book.
A chapter later and there is a killer epidemic starting. One chapter later twenty years have passed and everybody except young people are alive in a post apocalyptic non technological world. I just couldn't go on. The complex character at the beginning and the interesting setup had been completely obliterated and replaced with tired formulaic ideas. I couldn't care less about any of the new characters or what was going to happen. I don't know what Emily St. John Mandel was thinking when she started writing the book, but it is clearly not for me.
One of the main reasons to put the book down and not continue reading was the lazy and unscientific treatment of the killer pandemic. We are talking about a flu virus that infects just by breathing for a few seconds next to someone, then disabled those people within a day. Viruses like this do not spread! Moreover, there is no way that a flu virus kills everybody. There are always exceptions, whether due to immunity, isolation or other factors. I love pandemic stories, I read them all with glee, and I did that way before the current situation, and when I see one that teaches nothing, because the epidemic is just a prop in an otherwise unrelated story, I get frustrated.
A few years ago I was watching a movie with my wife. We both didn't quite enjoy it, but were curious on how it ended, so I told her to skip scenes to get to the end. She was skipping all the scenes I was interested in and watching the ones I couldn't care less about. This book is the same. I understand why people would like it, as I said, the writing was good, but the focus of the story and the characters were in complete opposition to my own interests.