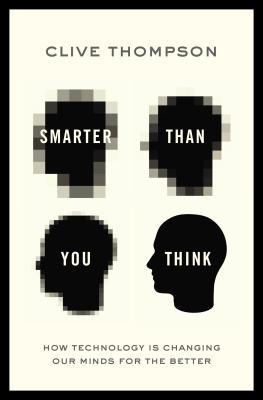 Clive Thompson is a technology journalist and therefore perfectly position to write a book about how digital technology really affects us. Does it destroy the world? No! Instead, it makes it better. Most of the time and if used well. In Smarter Than You Think, we read about how computers take over some of our tasks, then enhance them when used cooperatively, how new ways of thinking, awareness and literacy are unlocked by technology and how education can be used to improve how we use tech which then in turn can be used to upgrade education. So this is one non fiction book that paints technology in a rosy light and looks forward to the future. We need more of these.
A few things popped up for me while reading this book. First a quote about teachers and medics. If you reach into the past and you pluck a doctor from 20 years ago and bring them in the present, they will not function well, as they did not keep up to date with the latest discoveries and techniques developed. However, a teacher from 200 years ago can still find a job teaching children. The job hasn't fundamentally changed in centuries... until now. Reading about how good teachers have evolved to make use of digital technology is inspiring.
Then there was the concept of pluralistic ignorance, where people choose to behave in ways they do not adhere to because they are unaware of the position of the people around them. It was sobering. The book shows how the Internet can help dispel this problem by sharing awareness. That is not the same as "spreading awareness", the governmental and social warrior mindset which requires all people to think alike, but the increase in transparency of what people really think.
Finally there was a small bit about how pessimistic or negative views are statistically interpreted as more serious, realistic and intelligent than positive ones. Which makes writing the book a bit braver and also explains why everyone is whining all the time.
Of course, this book was written in 2013. Many things have happened since and the toxicity of public discourse combined with the insidious techniques corporations and groups in power use to manipulate everything can sour even the most optimistic of people. However I found the book still relevant and bringing a fresh sense of hope, without feeling like someone tried to push their worldview down my throat or predict the future for me. Instead it studies the many and often unpredictable ways in which people use technology to make things better.
I can't say it's a masterpiece, but I enjoyed reading a positive and realistic book like Smarter Than You Think. It was a welcome alternative to the gloom and doom we see directed towards us on a daily basis.