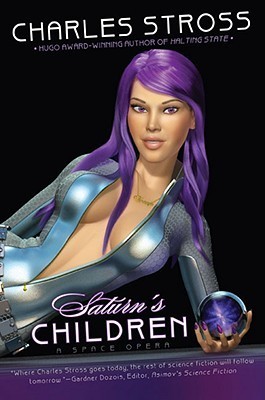 Saturn's Children feels like a book that started as something and turned out to be something else in the middle of it. Charles Stross writes something that seems very fashionable this days: a novel from the point of view of a robot. And not just any robot, but a humanoid female sex robot in a world devoid of humans with which to have sex with. Add some solar system travel, spy thriller mechanics, the occasional sexy comedy, philosophical musings about the meaning of life and identity, even what some people might consider light horror and you get this story.
Even if I enjoyed it, the book is a mess. The style changes, the metaphors change from something from this decade to something that would only make sense in the far future populated exclusively by robots and back again. The mood changes, the motivation of the characters change. You can't even tell who is who anymore because of the multiple "soul chip" identity swaps. It is all written as a letter, but you can't tell who the letter is addressed to, since it also explains to us stuff that should be obvious to a robot.
I found the premise of humanity simply fading away into extinction, no war, no plague, no asteroid, just people too distracted to have sex with other people, quite satisfying. I know that Futurama did it too, but it makes so much sense as a solution to the Fermi paradox. The basic idea of the book (once it crystalized into one) was intriguing, but you have to read half a book before it turns that way. The writing was competent, but not really engaging or inspiring. The technical aspects were the same.
Bottom line: more of a vacation book. You get it and you may even read it to the end if the vacation lasts long enough, but not memorable or interesting enough to care about what happens next.