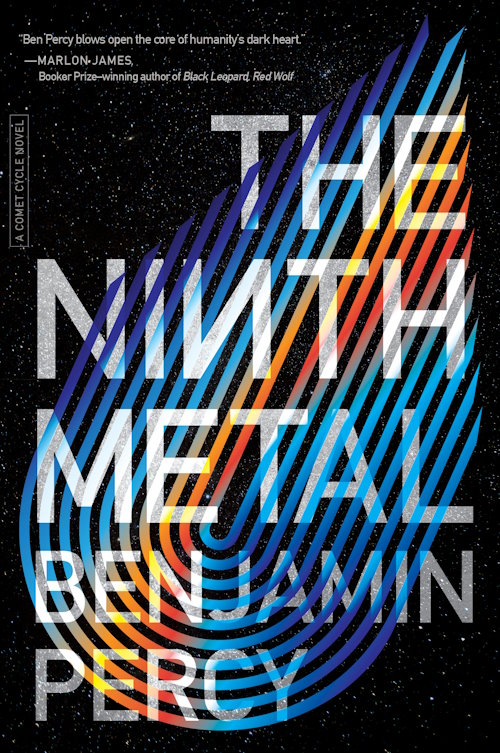 At 60% of reading The Ninth Metal, the work Miskatonic was slided into the story. Then some vague visions of interdimensional doors and huge eyes and tentacles solidified the intention to have this as a "Lovecraftian novel". And it may well be, perhaps the entire series will be more, but as it stands, simply hinting at cosmic horror is not Lovecraftian and having less than 5% of your story be anything than random hicks in Minnesota doing whatever they usually do almost doesn't make it sci-fi.
Now, Benjamin Percy's writing isn't terrible and slow paced stories that evolve slowly to give characters room to grow are not bad. I just felt that this book was a story of hardship in a family defined by local metal exploitation that a comic book writer felt the need to make superheroey and then (why not) Lovecraftian for a better selling position.
But there were other things that made me dislike reading the book. One of them is the endless back and forth between present and flashbacks. This sucks in movie form, in a book format it's even worse. You have to mentally switch context from whatever you were enjoying (or trying to) to something else while the author is answering questions that you never asked. Second thing is the characterization. Most people were terrible clichés, most notably Wade. Not only does he just randomly die, no one, including his loving wife, even mentions him again. The bad boy who grew a solitary and strong-silent sense of morality, the ambitious woman regretting not having children and finding one to save, the innocent requiring saving, the psychopathic villain, the angry henchman, the waiting woman (complete with a worthless and disposable male companion while doing so), the annoying story of a vague but global catastrophe but focusing solely on a small American town and so on.
Bottom line: I kind of liked the idea of the story, but I would have seen it compacted in the first three to five chapters of a single book. While tired of the "coasty" types of stories we are inundated with from cinema and TV, I didn't really want to fall into the other terrible formula: the small American town, truckers, miners and waitresses doing cowboy politics.