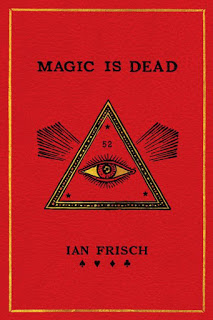 I liked the book, but not a lot.
Ian Frisch
is an investigative reporter who happened to enter a circle of disrupting young magicians who want to shake the industry and make it ...err.. fresh again. Really didn't intend that pun. However, if you expect revelations of how tricks are done or the deep exploration of the human soul, you won't get a lot of satisfaction from this book.
Full title
Magic Is Dead: My Journey into the World's Most Secretive Society of Magicians
, it feels more like a roadie story, where the young author gets sucked into a group of charismatic artists and ends up in their group. You can't use it as a barometer of the state of the magic industry, as the story is pretty one sided. The writing style isn't that great either, with some of the ideas repeated several times and none of the emotional bare stripping of the soul that I've come to love in autobiographies. There is no big drama or action of any kind - this is not Point Break or The Magician or anything. Moreover, the "secretive society" isn't all that secret, it is just a club of people hand picked for their innovative contribution to what many see as a stagnant industry and that many people know about. The title is pretty confusing as well, since it is not about magic being dead, alive or anything in between, but rather the pinhole perspective of the author while seduced by this group of very talented and interesting people.
As an introductory work in the world of magicians as a whole, it works pretty well. There is a lot of name dropping and some starter resources for wannabe magicians. It presents the mind set required to do magic in a way that satisfies not only you, but the customs of the magician community. But that's pretty much it. I can't recommend it, while I can't criticize it too much either. I would call it average.