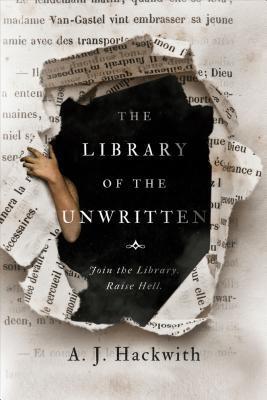 The Library of the Unwritten starts with a magical library which holds unwritten books, whether because their author has not written them yet or never got to before they died. And interesting premise, but one which made me afraid it was similar to Sorcery of Thorns. And I feel bad about it, but I did profile A. J. Hackwith before I started reading, which also filled me with apprehension (authors using their initials only make me suspicious). But the book was great! I am so glad to have been proven wrong.
I don't want to spoil anything, but enough to say that characters like humans, muses, demons, angels, fallen angels, elder gods and literary characters who took shape in the real world are all characters in the book.
While the story is a young adult fantasy, the writing is compelling, the characters complex and the plot quite refreshing and captivating. But I have to say I liked the characters the most: tortured souls (befitting a story which takes place in Hell most of the time) who have to resolve their issues in order to grow. All good characters are like that and inspire readers everywhere to do the same. The book also avoided getting mired in occult legislature (like defining a series of rules or a specific magic system) or pushing some gender agenda, instead focusing solely on story and characterization, which I applaud.
Bottom line: not a masterpiece or anything, but one of the best books I've read recently and a very entertaining vacation read.