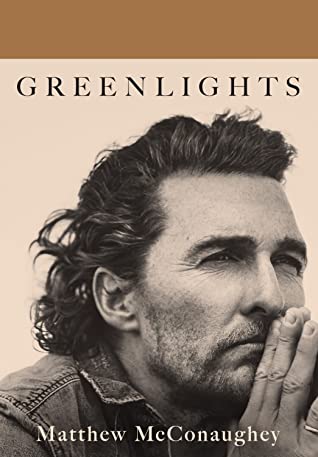 Matthew McConaughey is a well known actor that inspires different things for different people. He's attractive, but intense, easily switching from charming to violently wild. He was for a while the quintessential romantic comedy actor until he suddenly wasn't. He is active socially and spiritually, always coming with some emotional speech about some thing or another. So what would his autobiography be like?
Well, it was good, but it felt a little too rehearsed even as it was constructed as a collection of unfiltered anecdotes from the author's life. The title, Greenlights, comes from the understanding that some things in life are opportunities for the future. They don't push you forward, but give you the green light to go, they are open doors. Each of the stories in the book represents a greenlight for McConaughey, regardless of how amazing, fantastical, horrible or dangerous they sound.
In short, his crazy parents instilled in him the moral fortitude to choose and then stick with that choice. From a household in which all emotions were heightened - there is a story where his parents have a fight involving a broken nose and knife swinging, followed by wild sex, for example - Matthew learns to live and love wild but mind the consequences. And then, with a series of greenlight events, he gets into acting and fame.
The way the author says it, his character was formed before he became famous. If you believe he does crazy stuff now, it's because he was always like this and he chose to do it. The wet dreams that also stand for premonitions on what he has to explore, the naked stoned bongo playing at night, the choice to not accept any rom-com scripts anymore, which led to him not working for two years until Hollywood finally managed to see him as an actor and give him other roles.
Same thing with love. He had a lot of temporary relationships and sex until he met the woman he saw as "the one", wooed her, married her and they have been together ever since. When he won the Oscar, he lost 30% of his weight for the role. I know this doesn't a performance make, but it shows the way McConaughey makes a choice and sticks with it.
A relevant quote: "What is success to me? Continue to ask yourself that question. How are you prosperous? What is your relevance? Your answer may change over time and that's fine but do yourself this favor – whatever your answer is, don't choose anything that would jeopardize your soul"
Now, did I like the book? I feel conflicted about it, as it provided insights into how the man thinks and feels, but which also felt bland and processed. At no time did I feel I was really understanding the person or experience things together with him. As an autobiography it wasn't very effective, but then again the book was never meant to be that, more a statement of belief on how life gives you paths to choose from.
Bottom line: good, inspiring work, but less personal that I would have liked.