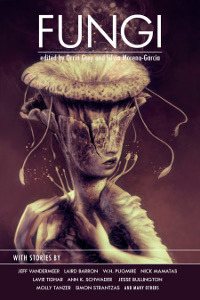 Fungi is a short story collection, fantasy and sci-fi, mostly hinging towards horror, edited by Orrin Grey and Silvia Moreno-Garcia. I am fascinated by fungi and also a horror fan, so I expected to love the book. Well... it was OK. I enjoyed most of the stories, but to be fair, the fungal influence on most plots was either marginal, like some evil affliction evidenced by mycelium growth, or too obvious, like the pulsating life eating and/or controlling mushroom mass.
It is possible that I bore a grudge from the very moment I started reading the book and expected it to be a novel, only to discover tales too short to get anywhere. It was great to listen to a short while walking the dog and not having to get invested too much, but other than that I was not that captivated. Stories were decent, most of them, but perhaps I was not really in the mood for a collection.
So, bottom line is that I had expectations set way too high and thus was inevitably disappointed. Didn't learn anything more about fungi, because most of the plots were about infestations that required no understanding of the processes involved.