I went to one of the Metro hypermarkets in Bucharest and I was pleasantly surprised by the variety of stuff one can find there, as compared with other hypermarkets that seem to be supplied from the same sources. Also check my next entry, I will write about exotic fruits there.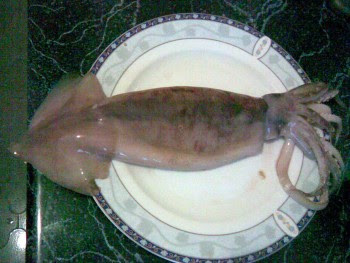 In this post I will talk about calamari! There is an entire store dedicated to fish in Metro, filled with a lot of nice looking and/or packaged treasures of the sea. My picks were swordfish stakes and one big calamari. Well, not that big... it's no
architeuthis
, but it will do.
I went home, made a longitudinal incision, threw away the
awkward looking
organ inside (which I suspect had a digestive function) and the eyes and beak, then threw it in boiling butter after putting a bit of spice over it. I removed it after 2-3 minutes and ate it. Yes, it's that simple! The taste is not strong, but really special and it was totally worth the buy.
Warning,
as read from the googling on calamari
: Calamari is either to be cooked in 2-3 minutes or in more than 30. Everything in between turns it to rubber. So, if you are like my wife and you want to spit it after you taste it, you might want to try the long cooking calamari recipes out there. :)