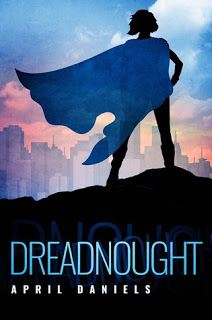 I am sure I only heard of this book because of the agenda of some of the sites I visit, but I do not regret reading it.
Dreadnought
is about a teenage boy obsessed with comic book heros who secretly wants to be a girl. When he gets his wish (plus some awesome superpowers) he has to deal with the lack of understanding from parents and people he thought of as friends. At first I thought "Oh, no, I fell for it again. It's going to suck! It's going to be
Sense8
on paper. I am going to read the entire book about how bad
cis-people
are". I am glad that it wasn't so, so before you automatically dismiss the book, think again.
While the main character is transgender, this only adds some complexity to it, without polluting the main thread of the story, which is a typical teenage superhero saves the world kind of thing. The way the world is described reminds me a bit of
Wild Cards
and maybe also some of those
Union Dues
books about powered people who get screwed over by politics and unions that were so popular on
Escape Pod
: metahumans are common, some of more power than others, heroes have leagues and are commonly recruited (and financed) based on their abilities, bad ones always try to take over the world while a majority of them are doing whatever they can with what nature gave them. The issues the main character has revolve mostly on how her bully of a father is messing her life after the transformation. Her parents want "their son back" and try to "fix" what happened to her. Meanwhile she is hunting for the biggest supervillain there is, trying to deal with her asshole family, handling the pressure from superhero adults who try to tell her what to do before explaining anything and ... do homework for school.
This is not a masterpiece, mind you. I enjoyed the book, which is rather short and pretty naive, because I actually thought the story was interesting, however it is mostly typical YA crap with a fresh perspective. A second book in the series from
April Daniels
is already out,
Sovereign
, and I intend to read it as well. I hope it's at least as good as Dreadnought. I was kind of hoping that it would be a different hero in each book, but it's the same in each. If you like that kind of diversity between viewpoints, I really recommend you read the Wild Cards series. It's huge, though.