The story in
Claymore
was pretty standard: monsters attack people, people are powerless, therefore an organization of hybrids (female warriors carrying deadly claymore swords) emerges to protect people from said monsters. So it's like Blade, in theory. But in reality it has the feel of Berserk (the first cool part, not the crappy lingering mess that it is now). Or you can imagine Naruto, with the monster and everything, fighting against a species of demon foxes. Only without the sillyness and all the mentoring.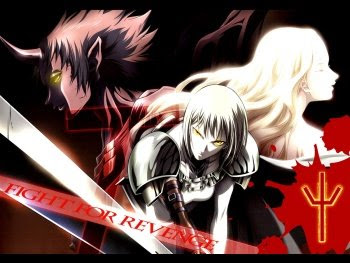 I really liked
the manga
, I can barely wait for it to continue, unfortunately it is distributed like one chapter per month. The 26 episode
anime series
follows closely the manga story, but unfortunately ends prematurely with a different idea in the last two episodes. Not that it is not a lot better than Berserk leaving us in the dark at the end of the anime or other series that just ended in mid air.
Bottom line, if you liked Berserk, you will like this. If you like Naruto/Bleach, you will like this. I can even throw a little Akira in, to convince you, but it would probably be a stretch :)