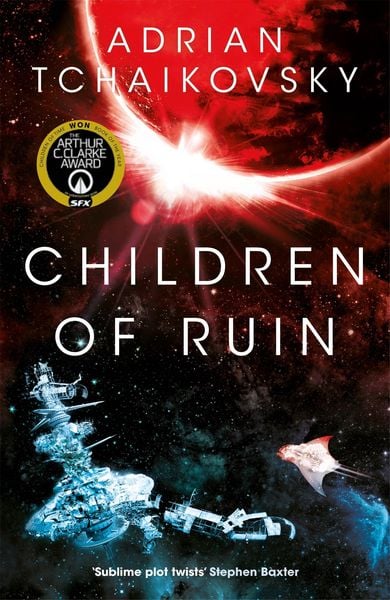 Children of Time was split into two stories, one rich with characterization, focused on individual people, and another that felt a little bit like a nature documentary, but was pretty good, too. The science was stretched a bit, but in the end you get a subtle exploration of humanity via another species. Children of Ruin is the equivalent of explosion porn for action movies, though: more, bigger, louder, thus drowning out the parts that came close to what I liked in the first book.
Adrian Tchaikovsky starts with another pair of obsessive scientists, but there is less focus on their actual personalities and struggles. They become the cause and catalyst of what he really wanted to write about: a civilization of octopuses and a complete new alien species - which of course also reaches sentience. Strangely enough, these take a lot of the book without - to me - providing any insight into our own species or telling me anything really interesting and new about cephalopods or making me feel a lot about any of the characters. In a sentence: this book is less careful, larger but coarser, faster but less inspiring.
This doesn't mean I didn't like it. The story captivated me and I wanted to know where it goes and how it ends, so I read it really fast. Yet the ending left me a bit disappointed, as I understood that the pyrotechnics ended and the story stands in ruin. Children of Memory seems to go back to the roots a little from the little I've read already, I hope it stays more true to the original concept.